Toyota Wrecker Brisbane accept all kinds of  new and old vehicles. We pay top cash junk cars, unwanted cars, old cars, and accident cars. Our towing truck is always ready to give service.
Toyota Wrecker Brisbane
Toyota wrecker Brisbane pays top dollar for old, unwanted, and damaged cars. If your car is no more useable or you are not willing to drive it anymore or might be you have bought another brand, then consult us we are car wreckers, Tolo Auto Recycling Cars not only buy Toyota cars about also Mitsubishi, Subaru, and Lexus, Citroen, Alfa, Nissan, Honda, Mazda, Audi, Suzuki, Kia brand cars. We deal with any kind and model of vehicle.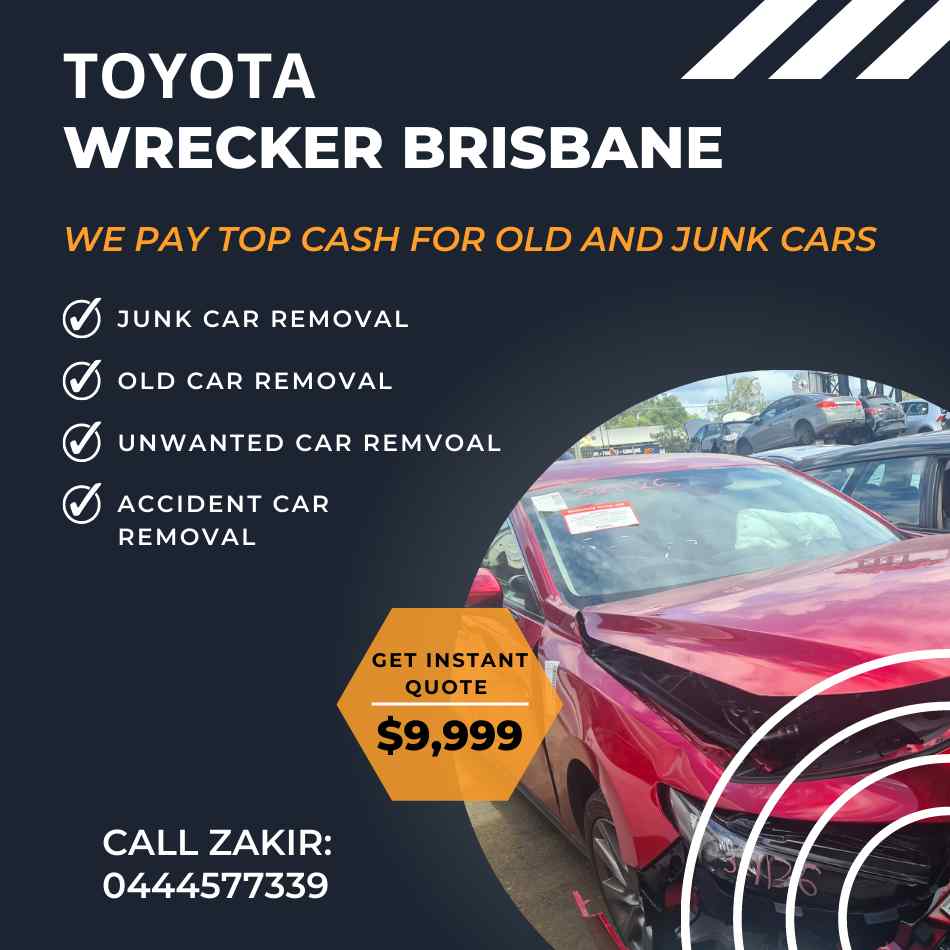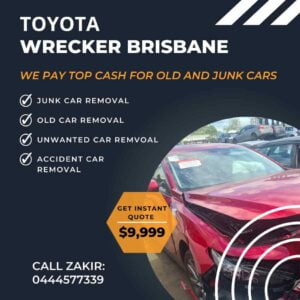 We have our own towing truck that is equipped with all the required elements. Our workers and drivers are ready 24/7. They will answer you on time. Apart from these, all the body parts of Toyota, Honda city, Nissan KIA, and many more are available with us.
How is the process of a Toyota wrecker in Brisbane?
 Car wreckers mostly have complicated processes of work, but Tolo Auto wreckers provide two simple ways of selling your vehicle. There won't be complications. Simply contact us through our cell phone number. Or get an online quote about your vehicles. While contacting on our cell phones the flowing questions are being asked, and you need to share correct information.
Name of the vehicle.

Model and conditions of your vehicles.

Is the engine working or not?

What will be your demanded price?

All the paperwork will be done on the same day.

Cash will be given on the spot.

The trash will be removed quickly.
These are simple and easy processes. Tolo Recycling Car has the ability to make its customer happy by giving all the easy procedure that is required.
The benefit of used car parts
We damage the vehicles owing to accidents or towing. We sould repaire them, and will not be transferred into their original shape. Whereas, we provide the used parts that are really in their original condition and shapes. Replacing them with such accident parts will save you time and money. It makes the vehicle original.
CARS, VANS, UTES, TRUCKS, 4X4
About Auto Wreckers in Brisbane.
You might be dubious about what Auto Wreckers Brisbane does. Actually, we specialize in dismantling and salvaging vehicles for their parts and materials. Our aim is to make a free hassle environment. In addition. We purchase unwanted or damaged cars, trucks, and other vehicles that are damaged and gotten old. As per our activity, the old and damaged vehicles are disassembled and extracted any usable parts. The parts are then sold to other customers, who need them to repair or maintain their vehicles.
Auto wreckers in Brisbane provide affordable access to parts for vehicle owners. Our activity also plays a major role in reducing the environmental impact of discarded vehicles by recycling and reusing materials. So if you have any kind of old and junk car, vehicles, or truck contact us now through our cell phone: 0444577339.
Toyota car removal Brisbane offers top cash for cars. 
Toyota Car Removal Brisbane pays top cash for old and junk cars. Our convenient and hassle-free solution makes the process of work really simple. If you are looking to get rid of your Toyota vehicles in the Brisbane area, be in contact with toyota wreckers qld. Whether your Toyota car is old, damaged, non-functional, or simply unwanted, we accept them. With a team of professionals, we ensure a smooth experience from start to finish. In addition. We offer competitive quotes, and free towing services, and handle all the necessary paperwork. It makes the entire process efficient and stress-free. If you have a Toyota car that's taking up space or causing you trouble, Toyota Car Removal Brisbane provides a reliable and environmentally-friendly way to part with your vehicle while also putting some cash in your pocket.
- Toyota Wreckers Brisbane offers following services -
We reycle all the junk and old car in car wreckers brisane with free towing service. If you have any old and junk cars, don't hesitate to contact us. The process of the work will be done quickly and easily. After you get in touch with us. The team will arrange a pick up timing for you as consented. There won't be any dely. As per aggreement we will reach on the spot with our towing truck.
Toyota Wreckers Brisbane offers top for cars. our drivers and towing truck is alway ready to give service. All you need to do is contact us. If you car is old, damamged or broken down even no worries. We are car wreckers and accept all modles and ages of cars. There is no need to worry. simply come to us and get rid of those trashes quickly.
Toyota car removal brisbane
Toyota car removal Brisbane has made the process of work really easy and simple. As you call us the team will ask you some basic information about your car. soon after the examination the valid price will be give to you. The prices are negotiatable. Our price will be according to the market rate. There is no need to worry about the price.
Toyota car removals Brisbane
Toyota car removal Brisbane offers a seamless solution for those looking to get rid of the old cars. Whether due to age, damage, or simply the desire for an upgrade, Toyota car removals in Brisbane provide a hassle-free way to rid of these cars. With simple processes and fair price, owners can say goodbye to their old vehicles. Contact us and get the highest cash on the spot with free towing service now.
In Brisbane, car wreckers play a wide role in the wrecker cars. These professionals offer a vital service by dismantling and recycling old, damaged, or unwanted vehicles. Car wreckers in Brisbane help car owners dispose of their vehicles responsibly while also contributing to environmental sustainability through the recycling of auto parts and materials. Beyond environmental benefits, they also provide a convenient solution for individuals looking to free up space.
Cash for Toyota cars Brisbane
Cash for Toyota cars Brisbane is offering competitive prices and a hassle-free transaction process. We provide a convenient avenue for those in need of quick cash in exchange for their Toyota vehicles. Whether you have an old car, junk car or new car can benefit out this service. We try to make it a practical solution for those looking to sell their vehicles in the area.
How to get cash for toyota cars brisbane could be your question too. so, don't even wounder yoursrelf. We pay top csh for all brands including Toyota cars. 
We have our own salvage yard wher we recycle all the old and junk cars. Before recycling the cars, we collect all quality parts. So, we have many toyota parts available here. 
These is no need to search here and there we are auto wreckers brisbane. We have our own wrecking yard where we can give vast service. We give serive in whoel Brisbane including the sorroundings. So contact now car wreckers brisbane northside.