Top Cash For Car Ipswich Wide
Best Cash for Car Ipswich Wide
Top cash for car Ipswich wide provides the easiest and most convenient services. We deal with all kinds of old and junk cars, such as unwanted Cars, Trucks, Vans, Utes, 4x4s, Jeeps, SUVs, etc. The top Cash up to $9,999 will be paid on the same day of the agreement.
Old cars are really irritating and hurdles. Moving on the road suddenly breaks down. Discourages a person to do his work on time. There are many other blunders with junk cars. So if you have an old car make them cash with a Tolo recycling car. Top cash for car Ipswich is always ready to ease your life. Though we know that making your car cash is really hard nowadays. You might be wondering how to find the best cash for a car Ipswich-wide. Different companies provide various rates and processes.
Tolo Recycling Car can understand the hurdles and difficulties of the customers and other people. Whenever they get stuck in these problems or they get down in the road, then they may circulate here and there for valid and proper cash for the Car Company. If they find also cash Car Companies in the area of Sunshine Coast, they may face an irritating and complicated process of them. Which drives them crazy. But don't worry Tolo Recycling Car provides the best and easiest way to cash your car/vehicles.
Once you deal with us you never leave us. Our process of services is guaranteed with the best and most valid rate in the whole of the Brisbane city especially in Ipswich. The free towing truck and members are always ready to deal with customers. They give duty 24/7 hours. All you need to do is call us on our cell numbers or get instant quotes by filling out the farm.
The process to sell your car in Ipswich
It is really simple and easy to make your car or other vehicles cash with us. Tolo recycling car has gotten the ability to provide the best top cash-for-car Ipswich service. Once you get in touch with us you will feel completely safe and relaxed, because our services are quick and easy. It won't take much time. Our members are fast working and sincere they do not allow the customers to be awaited. After examining the vehicles they will provide a valid prize for the vehicle which is a choice for customers. Without satisfaction and agreement, we don't deal with them.
The whole process and paperwork will be done on the same day. We never let the trash irritate the customers. On the same day, every process will be done. You might think about paperwork which is really a big deal. We are also restricted about it. Before our customer says something about them we do all the work automatically. 
Get Up To $9999 For Your Scrap Car
Gaining best cash for you vehicle is really important. Tolo Recycling cash for car Auchenflower is the number one / top cash for Car Companies in the whole of Queensland. We have always tried to provide the best amount of money for our customers. Owing to our highest price of cash for the scrap cars we are at the top. We provide cash for scrap and old cars up to $ 12,999.
Indeed. We never let our customers be in a dilemma. All models and conditions of vehicles are bought by us. It does not matter what condition it is. Whether it is new, old, or even scrap we will buy from you. The exhausted condition of the body, tires, or engine of the vehicles does not matter to us.
We make them scrap if it was not of use anymore. Sometimes the customer does complain about the objections of different companies regarding the condition or models. They point out various objections which makes the customer dazed. So don't even think of such irritating things. All you need to do is get in touch with us by calling us on our cell numbers.
HOW CAN I SELL MY SCRAP CAR IN IPSWICH?
Scraping my car would be hard if you don't know about the real cash for a Car Company. On the other side, in the current situation, we might not carry on with old and exhausted cars. Which can be a Burdon most of the time. Because they get down anywhere at any time. Further to it changing or converting your old scrap car for the new one is really hard. You are needed to give much amount of money as a result to get a new car. Because most of the dealership companies won't accept vehicles that are out of date or have accidents. In that condition, you need to scrap them.
Tolo recycling car does not refuse the customer. We buy cars that are in any condition or model. Others may argue about the condition or model which is considered a loss of money.  But we do not follow such rules we give convenient amounts of money that are valid as per the condition and models of the vehicles. So don't worry get an online quote form or call us at 0413937886.
Why is Recycling Important?
Protects environment and Wildlife.
Save Our Natural Resources
Saves Energy and oil.
Saves Money
Brings People Together
Educates People About the Importance of the Environment
Creates new Jobs and opportunity for others.
CARS, VANS, UTES, TRUCKS, 4X4
It does not matter if you live in Brisbane or Ipswich, we assure you to provide the best car removal service on any day and at any time. There are many reasons to sell your car and get cash for an unwanted car. We offer you as high as $9999 cash, which is paid on the spot. With us, even your worthless vehicle has value. Enquire now!
We buy every vehicle in Brisbane. You should present your driver's license to sell the car. We'll check the current vehicle status as well as the stolen check. Moreover, we'll give you a receipt, which will indicate our company details, your details, and vehicle details as proof of purchase.
Why choose us?
Tolo recycling has remained regular and outstanding in performance for many years. The friendly, smooth and fast, and free towing services have given us the credit to call us the number one company in the whole of Brisbane. In addition. We provide quick services our towing car/ truck activities has gotten the ability to fulfill all the requirements and certifications.  We pay top cash for your old vehicles plus free towing services. The customers are never disappointed with us. Because we give a smooth and easy platform. Our process of work is very easy, all you need to do is call us on our cell number  0444577339 our team members will answer you quickly and rapidly. For further acquirement, you can get in touch with us by filling out the form.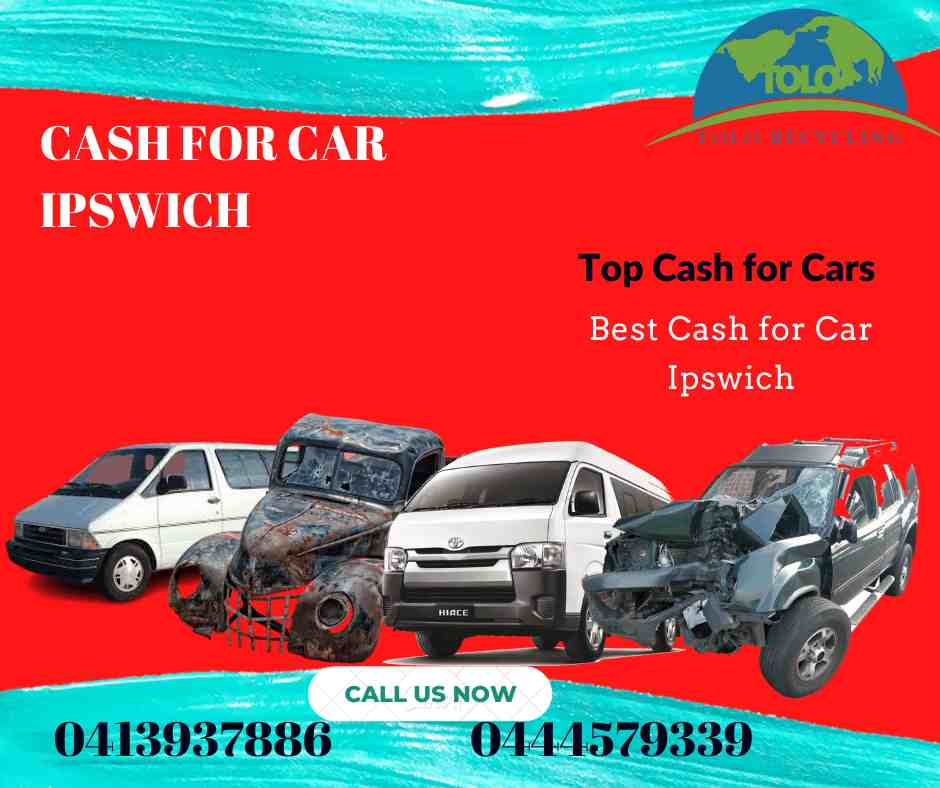 Reasons to Sell a Car to ToIpswich top cash for cars.
As we all know that it modern and up-to-date era.  Different modern companies provide new vehicles which make the environment clean and fresh. Old vehicles are mostly broken down. They make the dangerous smoke which is dangerous for environment and people. Indeed. Their broken and leak fluids can destroy the road and parking.
Mostly we park them in somewhere they make the spot dirty due it's leakage.  Sometimes, even they get broken down in the road or parking lots which will remain for many days. It is time-consuming and a placeholder. So Tolo Recycling Car will perform best role in this process. We give you a safe environment and free space. So if your vehicle has gotten old and exhausted then call us on our cell phones. We quickly will remove such trashes from your property in reverse cash will be given plus the space of your backyard which will make you tension free.
The Kinds of Vehicles We Buy.
What you need to know about sell a junk car Ipswich Wide
The most important thing that must be known about car wreckers in Ipswich is:
The valid price for your vehicles
Proper and convenient process.
Attitude and behavior of team members.
Before getting in touch with car wreckers we need to know all the above-mentioned things which will make our work easy and proper. While selling your car it is really necessary to get a valid price for your vehicle. Mostly we do not know about the prices of the car which is of different model. So Tolo Recycling provides the best cash for your cars. Secondly, on-time pick up is really important. After the confirmed deal the car wreckers must pick up the trash soon. Which will give you extra place and release your tension from a junk car. Thirdly, proper paperwork is really important. You need to know that company must do all the paperwork on time. Relevant to these all the attitudes and behavior of the sending member should be good.
- Ipswich cash for cars Top services -