Nissan Car Wreckers in Brisbane.
Nissan Car Wreckers Brisbane pays top dollar for new and old vehicles. We buy junk cars, unwanted cars, old cars, and accident cars. Our towing truck is always ready to give service.
About Nissan Car Wreckers Brisbane. 
Nissan Car Wreckers Brisbane pays top cash for old and junk cars. If you're a Nissan owner looking to get rid of your old or damaged car, you may be wondering where to turn. The best option is selling your car to a Nissan car wrecker. We have been working for many years. Our aim is to make free hassle and eco-friendly environment. In addition, we accept other brands of vehicles too.
In this article, we'll take a look at everything you need to know about Nissan car wreckers, including how they work, the benefits of using their services, and tips for choosing the right one for your needs.
What is Nissan car wrecker?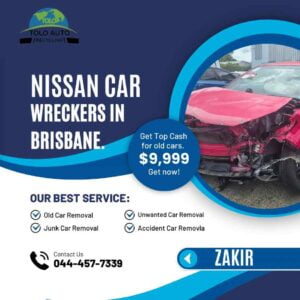 Nissan car wreckers, is specialized in buying and dismantling Nissan cars for parts and scrap metal. We offer a huge range of services, from buying your old, unwanted, and junk cars for cash. As you know old and junk car burn and place holders. We give the service to remove them from your property.
How do Nissan car wreckers work?
The process of selling your Nissan car is typically quite simple. Our cell phone numbers are given. First, you'll need to get in touch with us through contact number or get online quote by filling the form, or simply visit our car junk yard. As approaching us or getting in touch we may ask some basic information related to your vehicles, such as its make, model, and condition.
As examining your vehicle, we will give you a quote for how much it worth. If you decide to accept the offer, we will arrange a time to pick up your car and handle all necessary paperwork, such as transferring the title. Our towing truck and workers will arrive at the spot on fix timing. We pay the cash on the spot while removing the trash.
What are the benefits of using a Nissan car wrecker?
There are several benefits to selling your Nissan car to Tolo Auto Recycling cars. You'll receive cash for your car, which can be a great way to make some extra money, and remove the junk car from your yard. Additionally, selling your car to a car wrecker is often much faster and more convenient. Another benefit of using a wrecker is that we'll handle all of the necessary paperwork and towing free, which can be a real hassle if you're selling your car on your own. Additionally, by selling your car to us, you'll be doing your part to help the environment by ensuring that your car is properly recycled and any hazardous materials are disposed of safely.
What does Tolo Auto Recycling Cars do?
Tolo Auto Recycling Cars is a company that specializes in salvaging and recycling old and unused car parts. The purpose of this company is to meet the growing demand for sustainable and environmentally friendly practices in the automobile industry.
This paper aims to provide a brief overview of Tolo Auto Recycling Cars and its services. Specifically, the paper discusses the company's buying process, which is designed to be straightforward and hassle-free. Furthermore, the paper highlights the company's wide range of accepted makes and models, which include Nissan, Honda, Mazda, Audi, Mitsubishi, Subaru, Suzuki, Kia, Lexus, Citroen, Alfa Romeo, Ford, Isuzu, Jeep, Toyota, Peugeot, Renault, Holden, Hyundai, Volkswagen, and Mercedes.
Through its commitment to environmentally friendly practices and its extensive range of accepted makes and models, Tolo Auto Recycling Cars has established itself as a reputable and reliable player in the automobile industry. The company's services not only benefit the environment but also provide a valuable resource for individuals and businesses looking to acquire high-quality car parts at an affordable price.
CARS, VANS, UTES, TRUCKS, 4X4
What is the process of a Nissan car wrecker in Brisbane?
At Tolo Auto Wreckers, we offer two simple processes for selling your vehicle without any complications or hurdles. Our goal is to provide a hassle-free and easy experience, unlike some car wreckers who may make the process difficult.
If you are located in the Brisbane area and have a BMW, Nissan or other brands to sell, we offer a unique and simple process that you can follow. You can contact us through our cellphone number or receive an online quote about your vehicle.
We will ask you a series of necessary questions related to your junk vehicle, and it is important that you provide accurate information. These questions will include the vehicle's name, model, and condition, whether the engine is in working order, and your desired selling price. We will complete all necessary paperwork on the same day, and you will receive cash on the spot. Additionally, Nissan auto wreckers near me will quickly remove the vehicle so that you can enjoy a hassle-free experience.
About Auto wreckers in Brisbane.
Tolo Auto Wreckers specializes in the dismantling and salvaging of vehicles for their parts and materials. Our main objective is to provide a hassle-free environment for our customers. We purchase old or damaged cars, trucks, and other vehicles that are no longer functional or unwanted. Once we acquire these vehicles, we disassemble them and extract the usable parts. These parts are then used to repair other vehicles that have been in accidents and require maintenance or repair.
Our auto wreckers in Brisbane provide vehicle owners with affordable access to parts, and our activities play a significant role in reducing the environmental impact of discarded vehicles through the recycling and reuse of materials. If you have an old or junk car, vehicle, or truck that you need to dispose of, please contact us now at our cellphone number: 0444577339.