Discover the utmost convenience and simplicity of the remarkable cash for car services in Gympie QLd. Our company specializes in handling various types of outdated and dilapidated vehicles, including undesired cars, trucks, vans, utes, 4x4s, jeeps, SUVs, and more. Remarkably, Tolo ensures generous compensation of up to $9,999 for your unwanted and obsolete vehicles.Cash for cars Gympie QLd
About Top cash for car Gympie Qld. 
Looking to sell your car, whether it's brand new or in a state of disrepair? Look no further, as we offer an excellent solution. If you have an old or unwanted car that's been causing you trouble, you might be unsure of what to do with it. Finding a reputable and trustworthy company to provide a fair cash offer for your car can be challenging in today's market. However, there's no need to worry because Tolo Auto Parts Recycling has simplified the process for you.
At Tolo Auto Parts Recycling, we proudly offer our services throughout Queensland, including Gympie. We have gained a reputation as an honest and dependable company specializing in the removal of old cars across the entire region. Our prompt responses and competitive prices for old and unwanted vehicles have established us as the premier car wreckers in the area. We provide instant payment of up to $12,999 for cars on the spot. Our company's services are known for their reliability and excellence, catering to the needs of every customer. With years of experience as a leading cash for Car Company, we have assembled a team of knowledgeable, friendly, and qualified experts who are always ready to assist you.
What is the process of top cash for cars Gympie Qld?
At Cash for Car Gympie, we take pride in our simple and efficient service. Our dedicated team is available 24/7 to assist you at our car junkyard. From the moment you contact us, you'll experience a sense of security and ease. There's no lengthy waiting involved as we handle everything in a straightforward and uncomplicated manner. Our team members are genuine and hardworking, ensuring that our clients don't experience unnecessary delays.
Once we inspect your vehicle, we will provide you with a fair valuation without proceeding further until we have your approval and satisfaction. We understand the importance of customer satisfaction, and we prioritize it throughout the entire process. On the same day, we will complete all the necessary procedures and paperwork. We won't let any unnecessary hassle bother our clients. Rest assured, every step will be finalized promptly, ensuring a smooth experience. We also recognize that paperwork can be a major concern, but we have automated our processes to minimize any inconvenience for our customers. Don't hesitate, simply give us a call at 0413937886.
What kinds of vehicle do we buy?
In our society, we come across various types of vehicles that eventually age and become junk over time. It's understandable if you're tired of having them around. Indeed, having an old and junk car occupying space in your yard can be quite unsightly. That's where Tolo Auto Recycling comes in. We accept all kinds of vehicles, whether they are old, new, or in a state of disrepair. Rest assured, we offer top cash payments on the spot.
If you're looking to sell your used car for cash, there's no need to look any further than Tolo Auto Recycling.
We are willing to buy cars of every make and condition, regardless of their model or overall state. Unfortunately, many cash-for-car companies tend to offer disappointingly low amounts of money, leaving car owners frustrated. Moreover, some businesses even have restrictions and exclude certain car models and conditions from their services. However, at Tolo Auto Recycling, we take a different approach. We never reject any car and are open to buying all models and conditions, including popular brands like TOYOTA, HYUNDAI, HOLDEN, FORD, HONDA, SUBARU, MITSUBISHI, LEXUS, MERCEDES, MAZDA, KIA, VOLVO, and AUDI.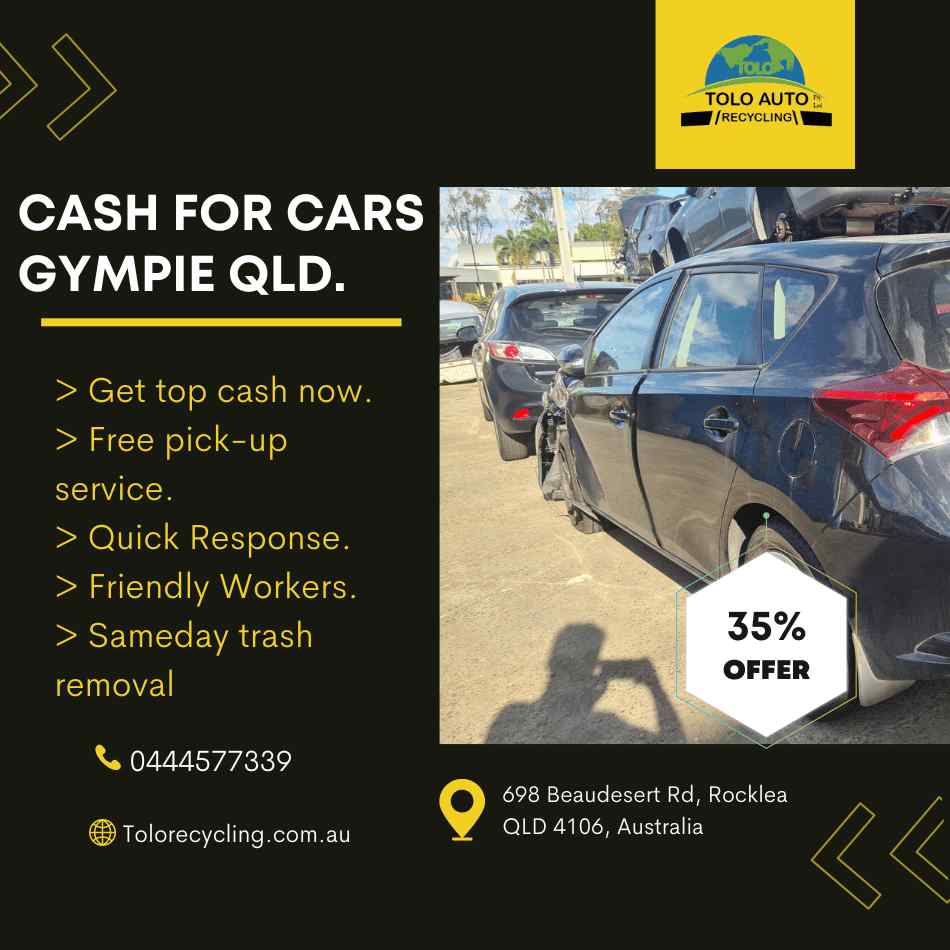 Junk car removal Gympie.
Tolo Auto Recycling, a trusted and experienced car buyer in Gympie, offers the most reliable services in the region. We specialize in purchasing various types of cars, including damaged, scrap, old, junk, used, and unwanted vehicles, and provide instant cash offers of up to $19,999. Our car removal services are unmatched in all Gympie suburbs, and our team of towing experts is available to assist you at any time. We gladly accept unwanted or old vehicles, including vans, jeeps, SUVs, Utes, buses, trucks, and 4x4s, and ensure that you receive the highest possible payout. Our cash-for-used-cars service in Toowoomba is known for being fast, hassle-free, and, most importantly, reliable. Our dedicated workers always offer top cash payments on the spot, even prior to collecting the vehicle from your garage.
Why you need car wreckers Gympie?
While there are various methods to sell your vehicle, opting for car wreckers in Gympie proves to be essential and efficient. Many other companies not only offer less money for your vehicle but also make the process unnecessarily complex and time-consuming. Getting rid of your old car is never a simple task, as it involves numerous procedures that can leave you frustrated throughout the selling process. However, with the assistance of car wreckers, the entire procedure has been streamlined to be both simple and swift. Within a short span of time, you can easily sell your vehicle to car wreckers, avoiding the hassle and inconvenience of other selling methods.
We pay instant cash Up to $9,999.
At Tolo Recycling Cars, we recognize the importance of receiving the highest cash value for your car. Our utmost goal is to provide our customers with the utmost value for their vehicles, which sets us apart in the industry as the leading choice for receiving top dollar for junk cars. We take pride in offering instant payments of up to $12,999 for scrap and old cars, ensuring that our clients are never left in a challenging situation. At Tolo, we welcome all types and conditions of cars, without any discrimination based on the vehicle's state. Whether your car is brand new, gently used, or even considered scrap, we are prepared to buy it from you.
At Tolo Recycling Cars, our dedicated team doesn't discriminate based on the condition or model of your vehicle. We gladly accept all types of cars, regardless of their age, engine, tires, or body condition. We firmly believe that even if something is no longer functional, it can still be transformed into valuable scrap. Unlike other companies that may impose restrictions on certain conditions or models, causing confusion and frustration for customers, we eliminate such concerns. Simply reach out to us by calling our cell numbers, and we will handle the entire process for you.
CARS, VANS, UTES, TRUCKS, 4X4
Why should you select us?
For many years, Tolo Auto Parts Recycling has been providing consistent and excellent service. We are proud to be known as the top business in all of Brisbane due to our courteous, easy, and quick services. Our free towing service is included and we offer top dollar for your used cars. Tolo takes pride in meeting all certification and demand standards. Customers who work with us are always satisfied with our user-friendly platform. Doing business with us is easy; simply call us at 0444577339, and a member of our staff will respond promptly. You can also get in touch with us by filling out the form for further information.