TOLO AUTO RECYCLING CASH FOR CARS.
car wreckers near me Brisbane
Old car removal can be difficult in different places in Brisbane still if you do not know about Tolo recycling. Tolo car wreckers near me in Brisbane have brought the best platform to remove your old car or junk cars. Sometimes you must be in hassle for the valid price of your old/ scrap car, but do not worry we give the best price which is valid and convenient. Fortunately, you are at the right place to get top cash for your junk car. The process of getting cash for your car is very easy which Tolo recycling provides you. car removal near me demonstrates everything about it. Read more below to learn how to get cash.
Finding the proper and best car wrecker is difficult in Brisbane. Many companies provide the services: wreckers near me, junk car removal, cash for cars, old car removal, car wreckers, and many more. They all have different policies and processors which can be hard and complicated. But, Tolo recycling has made everything very easy and smooth. We are Australia number one company having many experienced team members. You can contact us any time to get rid of your junk car.
What you need to know about car wrecker near me brisbane
The most important thing that must be knowing about wreckers near

me

is:
Valid price for your vehicles

On-time picks up.

Proper paperwork.

What models do they buy?

Cash paid on time.

Proper and convenient process.

Attitude and behavior of team members.
Before getting in touch with car wrecker near me, we need to know all the above-mentioned things which will make our work easy and proper. While selling your car it is really necessary to get a valid price for your vehicle. Mostly we do not know about the prices of the car which is of a different model. So Tolo recycling provides the best cash for your cars. Secondly, on-time pick up is really important. After the confirmed deal the car wreckers must pick up the trash soon. Which will give you extra place and release your tension from a junk car. Thirdly, proper paperwork is really important. You need to know that company must do all the paperwork on time. Relevant to these all the attitudes and behavior of the sending member should be good.
CARS, VANS, UTES, TRUCKS, 4X4
It does not matter if you live in Brisbane or Beenleigh, we assure you to provide the best car removal service on any day and at any time. There are many reasons to sell your car and get cash for unwanted car. We offer you as high as $9999 cash, which is paid on the spot. With us, even your worthless vehicle has value. Enquire now!
We buy every vehicle in Brisbane. You should present your driver's license to sell the car. We'll check the current vehicle status as well as the stolen check. Moreover, we'll give you a receipt, which will indicate our company details, your details, and vehicle details as proof of purchase.
How much will I get for my car?
It is really a nice question that should be thought about before selling your car. But do not worry Tolo Recycling will provide you with the best cash for your vehicles. It really depends on the condition and model of the car. You need to call us on our cell number 0444577339 instantly. Our team members will guide you on the spot. Or fill out the form below to get a quote.
Tolo Recycling provides the most cash for cars in Brisbane.
We buy all varieties and models of cars.

The highest amount of money is up to $9,999.

Same-day car removal service.

Offer proper paperwork.

All conditions of vehicles are bought.

24/7 customer service is available

 
What kinds of car can I sell?
About Auto Salvage Brisbane.
Auto Salvage Brisbane is a reputable and reliable company that specializes in providing top-notch automotive salvage services in Brisbane, Australia. We have gotten our own towing truck equipped with all necessary elements.  With our extensive knowledge in the industry, we offer a wide range of services to help customers with their salvage needs. Whether it's buying used cars, selling auto parts, or recycling vehicles, Auto Salvage Brisbane has established itself as a trusted name in the region. We prioritize customer satisfaction by offering fair prices, efficient processes, and excellent customer service. With a commitment to environmental sustainability, our team also prioritize recycling and responsible disposal practices. If you're in need of professional and efficient auto salvage solutions in Brisbane, Auto Salvage Brisbane is the go-to destination.
How is the Process of auto salvage Brisbane?
The process of auto salvage at Auto Salvage Brisbane is streamlined. It begins with a simple initial contact, where customers can provide details about the vehicle they wish to salvage. This information includes the make, model, year, and condition of the car. Based on this information, Auto Salvage Brisbane offers a fair and competitive quote to the customer. Once the price is agreed upon, a convenient time is scheduled for the vehicle to be picked up from the customer's location.
Upon arrival, the expert team at Auto Salvage Brisbane thoroughly inspects the vehicle to assess its salvageable components and overall condition. They carefully remove valuable and usable parts, such as engines, transmissions, and electronics, which are then refurbished and made available for sale. This ensures that customers can find quality used auto parts at affordable prices.
Later  process of work.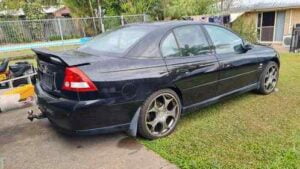 After the salvageable components have been removed, the remaining vehicle is carefully dismantled and processed for recycling.
Auto Salvage Brisbane follows environmentally responsible practices, ensuring that materials such as metal, plastic, and glass are properly separated and recycled.
Throughout the process, Auto Salvage Brisbane maintains clear and transparent communication with their customers, keeping them informed about the progress and any additional steps required. This ensures a smooth and satisfactory experience for all parties involved. So don't wait get in touch and make some cash.
Car Wrecker Brisbane offers top cash for old cars. 
Do you need to know about wreckers near me in Brisbane?  As one of the leading Brisbane car recyclers, we offer top cash for old cars. Our Qld wrecker car removal services are efficient and hassle-free. Whether you have a car removal requirement or need cash for cars near me, Car Wrecker Brisbane is the right choice. We also provide our services in South Brisbane and offer cash for old cars in Brisbane. With our expertise and professionalism, our workers ensure that the entire car removal process is convenient and stress-free for you. When it comes to cash for cars Brisbane near me, We are the best option. We offer competitive prices and ensure that you receive the best value for your old car. So if you have an old car that you want to get rid of, contact Car Wrecker Brisbane and get top cash for it. 
Cash for old cars Brisbane.
Get top cash for old cars in Brisbane. We are known for providing the best deals and offers for old car removal and car recycling in Brisbane. With our services, you can easily get rid of your old car and receive instant cash in return. Our team offers free car removal services, ensuring a hassle-free experience for our customers. We are conveniently located and provide old car removal services near you, making the process even easier. As one of the top car wreckers in Brisbane, we offer efficient and eco-friendly car disposal services. Whether you are looking for wreckers or cash for a car near you, we have got you covered. Trust us to provide top-notch services and the best cash offers for your old car in Brisbane.