The best Hyundai auto wreckers near me in Brisbane.
Hyundai auto wrecker near me Brisbane accepts all models of cars including Hyundai cars. We pay top cash for old and junk cars. You can removal your car free with any charge. In addition. All the paperwork and removal will be done on the same day.
About Hyundai Wrecker Brisbane.
Hyundai Wrecker Brisbane is a reputable car dismantling and wrecking company. With years of experience in the industry, we offer the best services to customers who are looking to dispose of their old, unwanted, or damaged Hyundai cars and other brands. The team at Hyundai Auto Wrecker near me in Brisbane is a skillful and knowledgeable professional.
Our members have the idea to handle all types of vehicle models. They ensure that the wrecking process is done in an environmentally friendly manner, following all regulations and guidelines. Additionally, Hyundai Wrecker Auto Brisbane offers top cash payments for all kinds of cars, regardless of their condition. 
We have a hassle-free and streamlined process to make it convenient for customers to sell their vehicles. Our friendly customer service team is always ready to assist with any inquiries and provide a smooth and efficient experience. Whether it's a damaged Hyundai car, a non-working vehicle, or one that simply needs to be scrapped, we are the best option for customers. Call now at 0444577339 for further information. 
Hyundai Auto wrecker near me in Brisbane pays top cash for scrap cars. 
We are a reputable car wrecker company that pays top cash for scrap cars. Whether your Hyundai is old, damaged, or completely wrecked, we are interested in buying it from you. We understand the value of scrap cars and offer competitive rates that you won't find elsewhere. Not only do we pay top cash, but we also provide free car removal services. 
Our team tries to make the process convenient and hassle-free for you. This team of experts will come to your location, assess your Hyundai, and provide you with an instant cash offer. We handle the paperwork and ensure a quick and efficient transaction. So, if you have a scrap Hyundai and are in Brisbane, contact us today to get the best deal and turn your unwanted car into cash.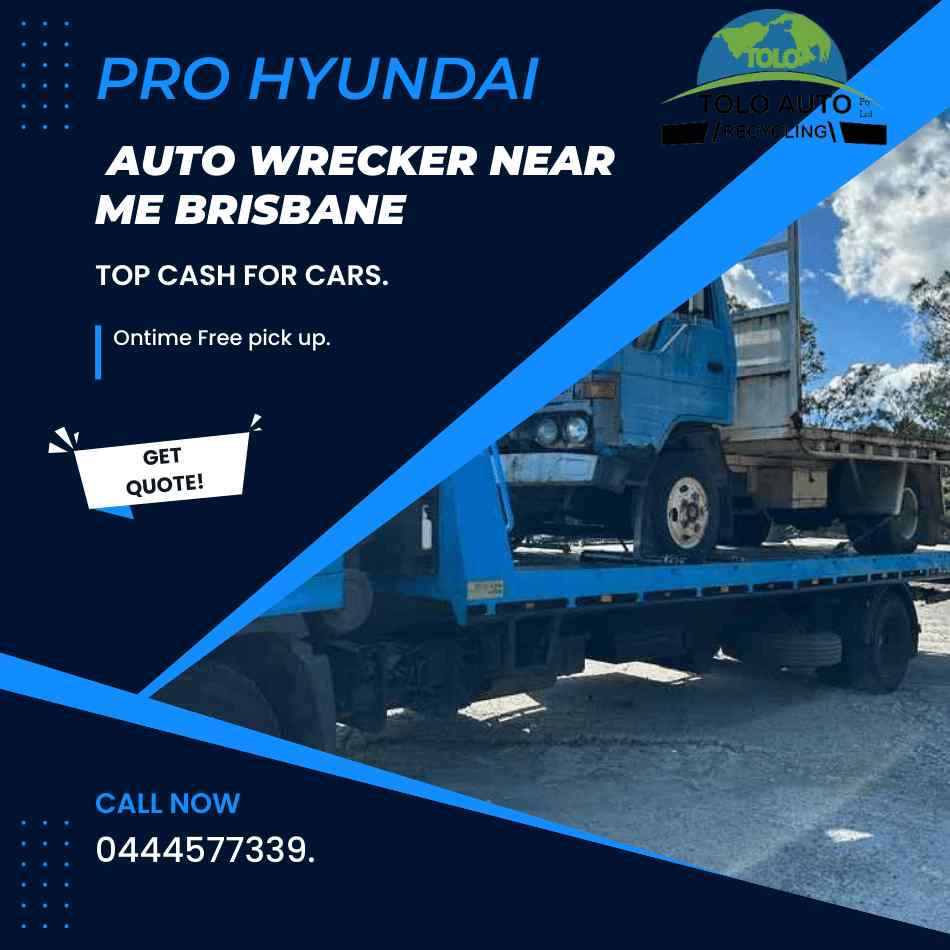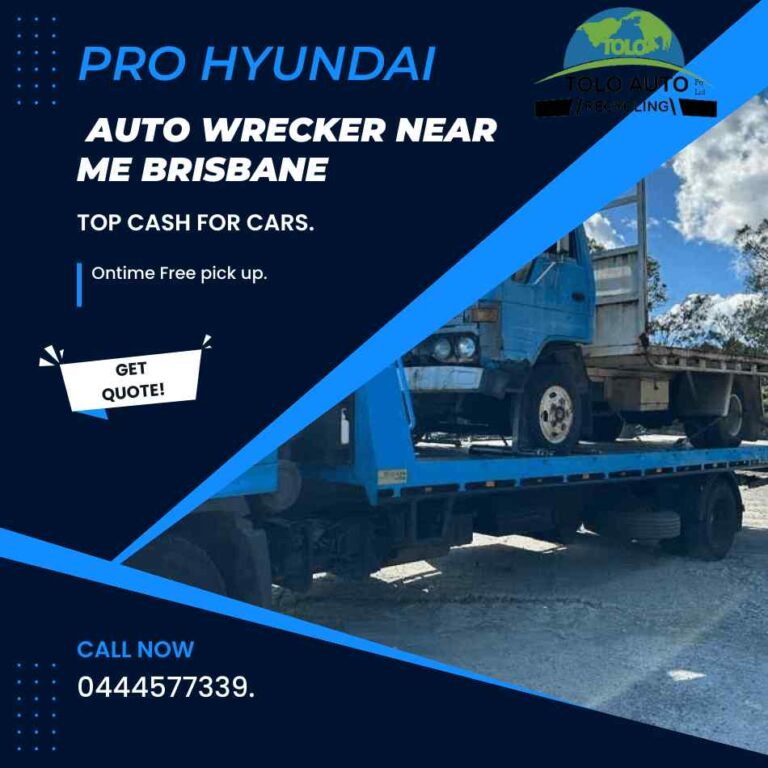 How is the process of Hyundai Wreckers? 
The process of Hyundai Wreckers is easy and simple. All you need to do is call us on our cell number or get an online quote. Once you reach out to us, you will be asked to give the basic information about your car, such as its make, model, and condition. Based on this information, we will provide you with a quote for your vehicle.
If you are satisfied with the quote, we will proceed to fix the pickup time according to your convenience. On the scheduled day, our team will come to your location to tow away the car. And the best part is, you will receive cash on the spot for your Hyundai. No more haggling or waiting for payment, our process ensures a hassle-free experience for our customers. 
We wreck the following cars. 
At our car dealership, we are wrecking and selling a variety of old cars. We have a wide range of options available, including the popular used Hyundai car models. If you have an unwanted vehicle that you no longer need or want, we can provide a solution by wrecking it for you. We understand that not everyone wants to hold onto their old vehicles, and that's where our wrecking services come in handy.
Additionally, we also have a selection of second-hand cars that have been thoroughly inspected and are ready for a new owner. Whether you're looking to get rid of your unwanted Hyundai or looking to purchase a reliable second-hand car, we have you covered.  Get in touch now for more information. 
Get Instant Cash on the Same Day with free car removal. 
Sometimes we are in need of quick cash, which is possible with us now. you'll be glad to know that you can get instant cash on the same day with free car removal. Whether you have a car that is old, damaged, or simply unwanted, there is a car removal service available that will not only tow away your vehicle for free but also give you cash for it on the spot.
This can be a convenient and hassle-free way to get rid of your car while also getting some extra cash in your pocket. The process typically involves contacting us, providing us with details about your vehicle, and scheduling a pickup time. Once our car removal team arrives, they will inspect your car, hand you the cash, and tow the vehicle away. It's a win-win situation for anyone looking to get rid of a car quickly and get some instant cash in return. 
CARS, VANS, UTES, TRUCKS, 4X4
Free Scrap Car Removal.
Free Scrap Car Removal is a company that offers top dollar for old and junk cars. We understand that these vehicles can be a burden to their owners, taking up valuable space and becoming an eyesore. With our efficient and hassle-free service, we make it easy for people to get rid of their unwanted cars. on the other hand, you can earn some cash in the process.
Whether the car is running or not, Free Scrap Car Removal will come to the owner's location and tow it away for free. We have an experienced team who will evaluate the vehicle and offer a fair price based on its condition. With our competitive rates and prompt payment, we guarantee a smooth and profitable transaction for their customers. 
- Get online Quote Now 0444577339 -
Get a free quote now quickly. 
Overall, you can get a free quote about your vehicle at no price. Simply fill out the form correctly and get a fair price quote for your vehicle. 
High-Quality Auto Parts and body parts.
When it comes to auto parts, car parts, Hyundai parts, spare parts, or body parts, get them from us. We provide quality parts in QLD. Our parts are original and are built to last. Whether you need a new engine, brakes, or even a replacement body panel, we've got you covered. Our team is dedicated to sourcing the best parts from trusted manufacturers to ensure that your vehicle performs at its best.
We understand that finding the right parts can be a hassle, so we strive to make the process as seamless as possible. With our extensive inventory and knowledgeable staff, you can trust that you'll be able to find exactly what you need. Don't settle for second-rate auto parts – choose us for the best quality and peace of mind. 
How To Sell Your scrap car to Tolo Auto Recycling parts?
Tolo Auto Parts Recycling Car provides a convenient and hassle-free solution for selling your car. You might be thinking about how to sell us.  First, you need to gather some basic information about your car, such as the make, model, year, and condition. Then, you can contact us and provide the team with this information.
We will give you a free quote for your scrap car and arrange a suitable time for pick-up. Indeed you can send us personal messages on our Facebook account too.  Once the towing truck arrives, the driver will evaluate the car and offer you a fair price. If you agree, we will handle all the necessary paperwork and pay you on the spot.
Selling your scrap car to Tolo Auto Recycling Parts is quick and convenient. It is the best way to get rid of your car. In addition. It also helps in reducing waste and promoting environmental sustainability. So, give us a call now and sell your old cars. 
What makes and models of vehicles do we buy? 
As car wreckers, we buy all kinds of vehicles. Whether it's a sedan, SUV, coupe, or truck, the make and model does not matter to us. We have our own salvage yard, if you're looking to sell your unwanted car, you've come to the right place. We offer a hassle-free process and fair prices for your vehicle. Not only do we purchase cars, but we also provide spare parts for your car if you're in need. 
So, if you have a damaged car or one that you simply don't want anymore, we can help you with Hyundai car removal or any other make and model. Sell your car to us and get rid of the hassle of trying to find a buyer or deal with the paperwork involved.