Auto Wreckers Sunshine Coast
car wreckers Sunshine Coast.
Get the 3 quick steps to get top dollar with Car wreckers Sunshine Coast.  We accept broken down, junked, scrapped, or unwanted vehicles. Our workers are 24/7 ready for serving to our customers.  
Car wreckers' sunshine coast qld.
 Car wreckers' sunshine coast is a service that allows individuals to dispose of their old, unwanted, or damaged cars in an environmentally friendly manner. We are trained professionals that specialize in dismantling vehicles to salvage and recycle usable parts. We have the necessary tools and equipment to safely and efficiently handle the dismantling process. Indeed. We are ensuring that no harm is caused to the environment. This company not only provides a convenient solution for car owners to get rid of their unwanted vehicles, but we also contribute to sustainable practices by promoting recycling and reducing waste. 
By using their services, you can get rid of your old car without having to worry about the environmental impact it may have. Additionally, car wreckers can often offer a competitive price for your old car, providing an incentive for people to use their services. So, if you have a car that is no longer of any use to you, consider contacting us for a hassle-free and eco-friendly way of disposing of it.
How is the process of our work?
 The process of work on the Sunshine Coast is quite straightforward and efficient. First, you need to contact a reputable car wrecker in the area and provide us with the details of your car. Such as its make, model, and condition. We will then evaluate the vehicle and provide you with a quote for its purchase. If you agree to the price, a convenient time and location for the car to be picked up will be arranged. 
The towing truck will then come to your location, tow the car away, and handle all necessary paperwork. The workers will also ensure that all hazardous materials are disposed of properly. It's a hassle-free solution to get rid of your old or damaged car while also being an eco-friendly option.d
Looking for Car Used Parts near you?
 If you are in need of car-used parts, look no further than the car wreckers in the area. We are known for our extensive collection of used parts for various makes and models of vehicles. We have numerous parts in stock. Whether you need spare parts for a car, truck, or SUV, the wrecker yards in Sunshine Coast have you covered. 
This company has a wide range of car parts available, including body parts, transmissions, headlights, and more with a warranty. By purchasing used parts from wreckers, you can save money while still ensuring the quality and reliability of the parts you need for your vehicle. So, if you are looking for car-used parts, reach out to the wreckers in the area to find the right parts for your car.
Be in touch with quick cash for old & and junk Cars Removal.
Quick Cash for Old Cars Removal is the perfect solution for those looking to get rid of their unwanted vehicles and earn some extra dollars. With this service, you can easily sell your Vehicle and receive instant money on the spot. The car removal process is quick and hassle-free. As professional wreckers, we will come to your location and tow away the vehicle for you. We accept all types of vehicles, whether they are running or not. Susequent to. 
The Sunshine Coast car wreckers salvage usable parts from old cars, ensuring that nothing goes to waste. The salvage yard is a goldmine for car enthusiasts and mechanics looking for affordable spare parts. So, if you have an old vehicle lying around, feel free to contact our service and earn good money in return. 
 

Auto Recyclers buys all damaged and scrap cars. 
Auto Recyclers, located on the beautiful Sunshine Coast, is a leading company specializing in buying damaged and scrap cars. With a team of dedicated professionals and years of experience in the industry, Auto Recyclers ensures to provide a hassle-free and convenient solution for all your car wreck needs. Whether your vehicle has been involved in an accident or it's simply reached the end of its life, we are ready to offer a fair price and take it off your hands. 
Their expertise extends to all makes and models, including cars, trucks, and SUVs. Rest assured that with Auto Recyclers, your car will be responsibly disposed of and recycled, minimizing its impact on the environment. Furthermore, we understand the value of spare parts, and if your car still has a functioning engine or other parts, they can assess and offer a competitive rate for those as well. Contact Auto Recyclers on 044457739 to get rid of your unwanted vehicle today.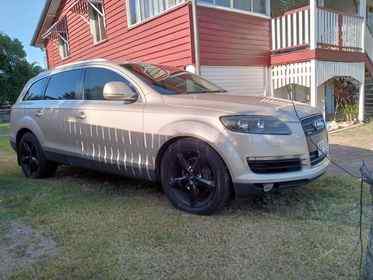 What models and Conditions of old vehicles do we buy?
At our dealership, we buy a wide range of models and conditions of old vehicles. Whether it's a vintage classic or a modern car, we are interested in purchasing it. From popular brands like Ford, Chevrolet, Honda, Mitsubishi, Suzuki, Isuzu, Mazda, Nissan, and Toyota to luxury brands such as Mercedes-Benz and BMW. We welcome all makes and models. As for the condition, we accept vehicles in various states, from perfectly running cars to those that are damaged or non-functional. In addition. We understand that each vehicle has its own story and value. And, we will assess and offer a fair price based on its condition. So, if you have an old vehicle that you want to sell, regardless of its make or condition, bring it to our dealership. We'll make you an offer you won't be able to resist. 
CARS, VANS, UTES, TRUCKS, 4X4
Do you wonder how to get instant cash for unwanted cars?
 If you find yourself with an unwanted car or truck and need some cash, you might be wondering how to quickly get rid of it. Well, in Queensland there are services available that will pay you instant dollars for your unwanted vehicle. Whether it's a car, a truck, or even a utes, these companies are willing to take it off your hands and give you the money you need. They make the process easy and convenient, providing a hassle-free solution to your car disposal needs. So instead of letting that unwanted vehicle sit around and take up space, consider getting instant cash for it on the Sunshine Coast.
Contact Fast Car Wreckers Today. 
If you find yourself with an unwanted car and in need of quick cash, you may be wondering how to make that happen. Luckily, there are solutions available for you. In the market for quick money for unwanted cars, you can find various services that specialize in buying cars for cash. Whether you have an old car, a broken down ute, or even a truck that you no longer need, these services can provide you with a fair amount of offers. This is particularly beneficial for those residing in the near area, as there are reputable companies that offer top dollar for unwanted cars specifically in this region. So, instead of letting your unwanted car sit and collect dust, consider exploring these instant cash options available to you. Don't waste your time get connected with us by dialing the cell number: 0444577339.
Get top cash on the spot with auto Wreckers Removal.
 If you have an unwanted car taking up space in your yard, why not turn it into some quick cash? Auto wrecker removal is the perfect solution for getting rid of your wrecked or unused vehicle and making money in the process. These professionals will tow your car away and offer you top cash on the spot for it. Not only will this get rid of the eyesore in your parking, but it will also put some extra money in your pocket. 
The auto wreckers will then take your car to their campus, where we will properly recycle and dispose of it. This benefits both the environment and your wallet. So why let your unwanted car continue to gather dust when you can easily get rid of it and make some money with the help of auto wrecker removal?
Instant cash up to 12,999 & FREE car removal on time.
 Are you in need of some fast cash? Look no further! We offer instant cash up to $12,999 and a FREE car removal service. Whether you have a damaged car, or an old vehicle, or simply need to get rid of your unwanted car, we are here to help. Our team of experts will ensure a quick and hassle-free car removal process. Just give us a call at 0444577339 and we will remove your car. 
We are located in the Sunshine Coast area and provide cash for cars of any make or model. Don't let your old car sit and waste valuable space, get instant cash and have your car removed today. Don't hesitate, to give us a call now and say goodbye to those unwanted wrecked vehicles.
Auto wreckers in sunshine coast Service. 
Auto Wreckers sunshine coast is a reputable service that provides efficient and reliable car removal services in the whole area. As a leading wrecker on the coast, we specialize in removing unwanted or damaged cars from residential and commercial properties. We have a team of skilled professionals who are experienced in handling all types of vehicles, including cars, utes, and trucks. 
No matter the make or model, we ensure careful dismantling and disposal, while also adhering to environmentally friendly practices. With our prompt and hassle-free service, car owners can easily get rid of their old or scrapped vehicles and free up space on their properties. Car Wrecker is the go-to service for all car removal needs, providing peace of mind and superior customer satisfaction.