The Professional Car Wreckers Queensland
Auto wreckers Queensland.
Find out the best car wreckers in Queensland near you. We pay top cash for old, junk, and unwanted cars with free towing service. Don't let the trash take place in your yard. Sell them and make top cash with us instantly. We provide free towing serve for our customer.
Auto Wreckers Queensland offers top cash for cars.
 Get in touch with Auto Wreckers Queensland. We are specializing in buying old and damaged cars. Our prime aim is to offer top cash for old, junk, unwanted, and accident cars. With our efficient and reliable services, we have become the best choice for car owners looking to get rid of their unwanted vehicles. The process of work is really simple and hassle-free. All you need to do is contact us on our cell phone number: 0444577339. The workers will ask for details about your car, such as its make, model, and condition.
Once they receive the information, they will give you a fair and competitive quote. If you accept the offer, they will schedule a convenient time to pick up your car. The best part is that we offer free towing services, so you don't have to worry about additional costs. Car Wreckers Queensland ensures that the whole process is quick and convenient, allowing you to get top cash for your car without any hassle. So if you have an old or damaged car sitting in your garage, contact Auto Wreckers Queensland today and turn it in cash. 
Best car wreckers Queensland.
Are you looking for the best car wreckers in Queensland? Look no further! Our car wreckers in Queensland are known for their exceptional services. Having many years of experience in the industry, we are committed to providing the best car wrecking services to our valued customers. The company offers competitive prices for your old and unwanted vehicles. We ensure that you get the best value for your car.
Our team of professional car wreckers is highly skilled and efficient, In addition, we guarantee that your vehicle is dismantled with utmost care and responsibility. Subsequent to that we also provide a hassle-free car removal service, where our towing truck comes to your location and tows away your unwanted vehicle for free. at the time it comes to car wreckers in Queensland, we are the best choice! Contact us today for a quick and reliable car wrecking service.
What Brands do we wreck?
In today's consumer-driven society, it's unfortunate to admit that we often don't think twice about the brands we wreck. We have our own salvage yard where wreck all the old, junk, unwanted, and scrap cars and trucks. So, the brand does not matter to us. We collect all the used parts and auto parts to reuse them. 
So, for that case accept all types of cars, such as; Toyota, Ford Mondeo, 4wd, Holden, Mazda, Mitsubishi, and many more. In our wrecking yard, you can find the best used auto parts that are in perfect shape and condition. Most of the auto recyclers do not give value to them but we do. 
Our workers give warranty about the part you need. All you need to do is call us now and get a quick and instant quote about your car.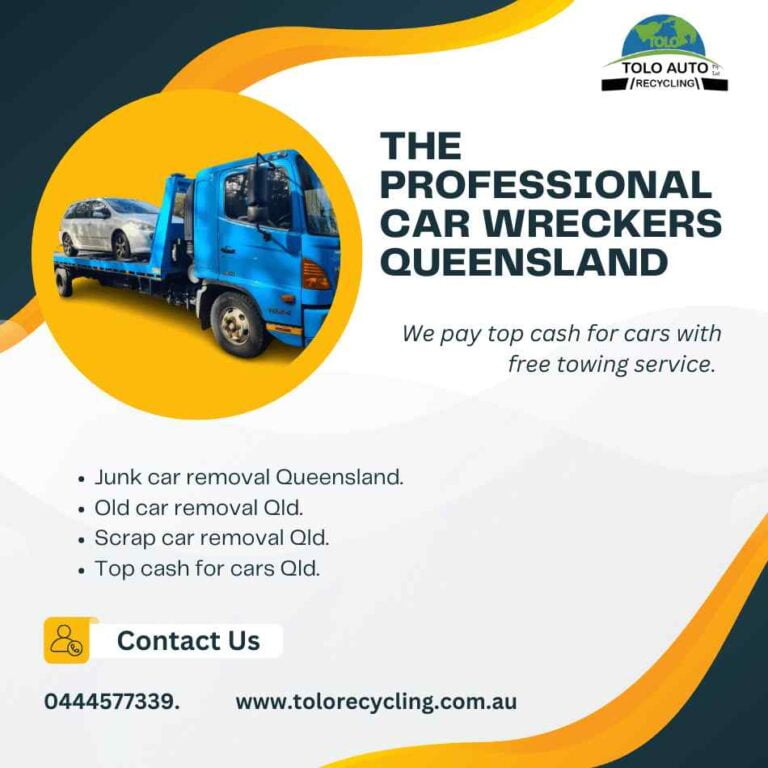 How to find car parts in Queensland?
Finding car parts in Queensland can be a challenging task, but with the right strategies, it can be made easier. Firstly, it is recommended to research and gather information about reputable car part suppliers in the area. That is really difficult and time consumer. This can be done through online searches, checking customer reviews, and asking for recommendations from friends or local mechanics.
Once a few potential suppliers are identified, it is important to contact them and inquire about the availability of the desired car parts. Additionally, checking online marketplaces and classified ads in local newspapers can also be helpful in finding car parts in Queensland.
Lastly, visiting local junkyards or scrap yards may yield hidden gems, as these places often have a wide variety of car parts for sale at affordable prices. So, the best option is to contact us. We are one of the best Brisbane car wreckers. We have numerous new and quality used parts in our parts store. It is important to be patient. Contact us now.  
What are the auto Wreckers' Benefits?
Auto wreckers provide a range of benefits for individuals with wrecked cars or unwanted vehicles. When a car is wrecked or no longer needed, it can be a burden to deal with. However, auto wreckers offer a convenient solution by taking these unwanted cars off people's hands. These professionals dismantle the cars and salvage any usable parts, which can then be sold to individuals in need of replacements.
This not only ensures that the old car doesn't end up in a landfill but also provides a more cost-effective option for those in need of car parts. Furthermore, auto wreckers can provide some financial compensation for unwanted vehicles, giving owners a chance to get rid of their old cars and make some money in the process.
Get top cash for cars with Scrap car wreckers in Queensland

.
If you are in Queensland and looking to get top cash for your car, look no further than Scrap car wreckers. As one of the leading car wreckers in Queensland. We have many years of experience in buying scrap cars and offering competitive prices for them. Whether you have an old, damaged, or non-working car, Scrap car wreckers will provide you with a fair quote and pay top cash on the spot.
With our extensive experience and expertise in the industry, our workers ensure a hassle-free and convenient car-selling process for our customers. Based in Brisbane, we serve customers across Queensland, including areas such as Gold Coast, Toowoomba, and Sunshine Coast. So, if you have a scrap car that you no longer need, contact us in Queensland. We will take care of the rest, providing you with the best cash offer for your car.
CARS, VANS, UTES, TRUCKS, 4X4
Top 5 Benefits of Qld Auto Wreckers.
 Auto wreckers and salvage yards offer numerous benefits to car owners in Brisbane and throughout Queensland.
Firstly, these facilities provide a convenient solution for getting rid of a scrap car. Instead of leaving it to rust in your yard, you can easily sell it to a wrecker who will properly dispose of it. 
Secondly, auto wreckers have a vast inventory of used car parts from various makes and models. This means that if you need a specific car part, chances are the wrecker will have it in stock, saving you the hassle of searching for it elsewhere. 
Thirdly, purchasing used car parts from a wrecker is often much more cost-effective than buying new parts. This can significantly reduce the cost of repairing your vehicle.
Fourthly, auto wreckers also contribute to recycling and environmental sustainability efforts by salvaging and repurposing automotive parts, reducing the need for producing new ones.
Overall, utilizing auto wreckers and salvage yards can help car owners save money and time, and contribute to a greener future.
Do you offer spare parts for sale?
Yes obviously, you might be searching for used spare parts. We offer various Quality used auto parts and spare parts. We are the best auto wreckers in the whole Qld. You can contact us for parts of all makes and models of cars. Give us a call now and get our desired parts.  
How do I get rid of my old car?
There are several options for getting rid of an old car. First, you can try selling it privately, either through classified ads or online platforms. Alternatively, you can trade it in at a dealership when purchasing a new vehicle. If the car is no longer drivable or in poor condition, you can consider donating it to a charity. Another option is to sell it to a junkyard for its scrap value. We scrap car removal, can help you get rid of your trash car with some cash on hand. 
What is the process for selling my vehicle to QLD Car Wreckers?
The process for selling your vehicle to QLD Car Wreckers is simple and hassle-free. First, you need to contact us with the details of your car, including its make, model, and condition. We will then provide you with a free quote, which you can accept or negotiate further. Once a final price is agreed upon. The driver will arrange a convenient time for vehicle inspection and pick up. You will receive immediate payment upon collection, and we will take care of all the paperwork involved.
- Get online Quote Now 0444577339 -
We are the best car recyclers in the whole city. You can get online quotes from anywhere in Queensland including the Thorne side area. Our workers are 24/7 ready to give you services.