Experienced Car wreckers Gympie.
The best auto wreckers' Gympie Qld offers top cash for cars. Our Professional workers will assist you to get easy and simple process. We have our own towing truck equipped with all necessary tools.
Experienced Car wreckers Gympie Qld offers top cash for cars.
Car Wreckers Gympie QLD is a reliable company that offers top cash for cars in the Gympie area. We understand that selling an old or unwanted car can be a hassle and time-consuming process. Which is why we provide a quick and convenient solution. On the other hand, With our efficient car removal service, the workers can pick up your vehicle from any location in Gympie and its surrounding areas. Whether your car is in working condition or not, we are willing to buy it and offer competitive prices. 
Ad, we have a team of experienced professionals. They can accurately assess the value of your car and provide you with an instant cash offer. Selling your car to Gympie Wreckers QLD not only saves you time but also ensures that you get the best value for your vehicle. We are committed to providing excellent customer service and guaranteeing a hassle-free experience. If you have a car that you want to get rid of and make some quick cash, contact car wreckers Gympie QLD today.
Get the Highest cash with Professional car wreckers Gympie.
Damaged or old car disturbing and time consuming. Why not consider selling it to professional auto wreckers in Gympie? We can offer you the highest cash for your car, regardless of its condition. Whether your car has been in an accident, is no longer running, or simply isn't worth fixing, contact us to get rid of it. We have a dedicated team of experts who will evaluate your vehicle and give you a fair and competitive quote. 
With our extensive knowledge and experience in the industry, you can trust that you are getting the best deal for your car. Not only will you receive the highest cash, but you will also benefit from our fast and efficient service. The ream members will handle all the paperwork and towing. subsequent to that, making the process hassle-free for you. So, if you want to get rid of your unwanted car and make some quick cash, contact professional car wreckers in Gympie today.
How is the process of car wreckers Gympie?
 The process of work in Gympie is fairly straightforward. When a car reaches the end of its life or is involved in a serious accident, it is brought to a car-wrecking yard in Gympie. We in Gympie then assess the vehicle to determine which parts can be salvaged and sold as used parts. The workers will remove any usable parts. Such as engines, transmissions, and body panels, and store them for future sale. The remaining car shell is then recycled, either by crushing it for scrap metal or by sending it to a shredder to break it down into smaller pieces. The metal from the car is then sold to metal recyclers. Overall, the process of car wreckers in Gympie helps to reduce waste and maximize the value of vehicles that would otherwise be considered junk.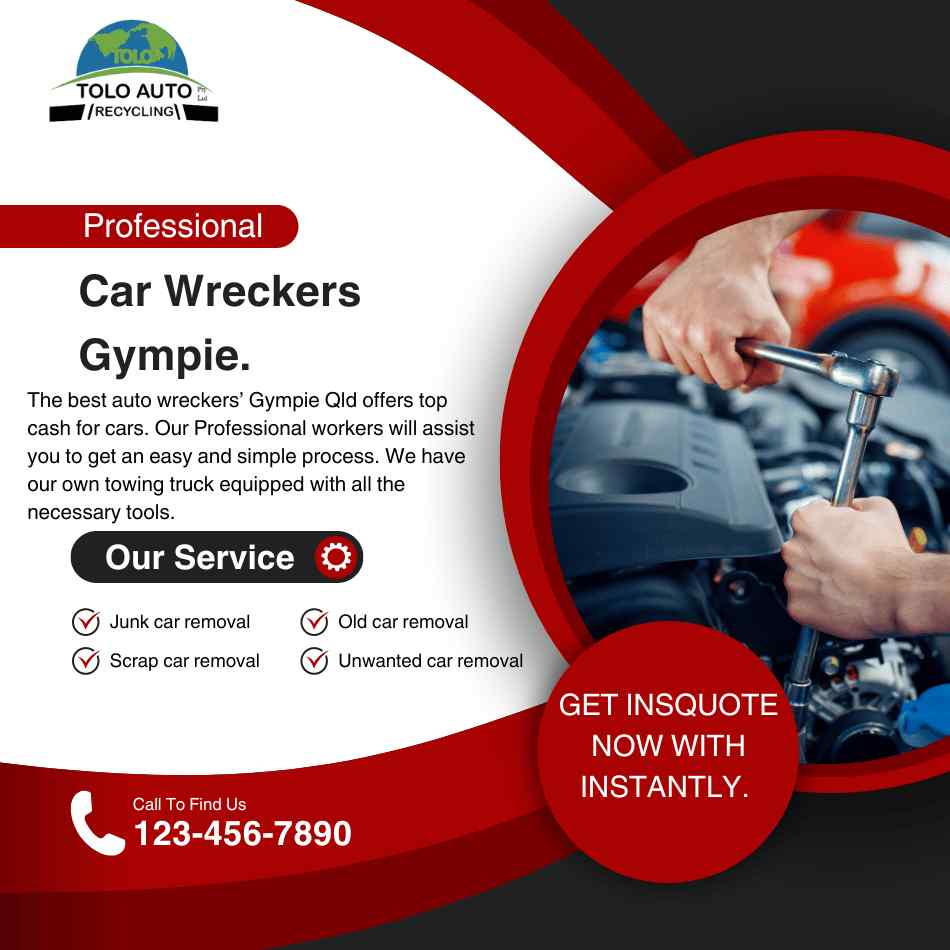 4 easy Steps to Sell My Old Car in Gympie?
 Don't wonder how to sell your old car in Gympie. It can be done in 4 easy steps. Firstly, do your research and find reliable local wreckers in the area like Cash for Cars Brisbane QLD. We offer top cash for old cars and provide a convenient service. Secondly, give us a call at 0444577339.  Provide us with the necessary information about your car. Our friendly staff will assess the condition of your vehicle and offer you a fair price. 
Next, on agreement of both side, arrange a suitable time for the workers to come and inspect your car. Once they evaluate it, they will give you cash on the spot. Lastly, they will tow away your old car for free. In additon. Allowing you to easily get rid of it without any hassle. Selling your old car in Gympie has never been easier with the help of reliable car wreckers like Cash for Cars Brisbane QLD.
Are you looking for Auto Parts in Gympie?
Look no further then us for autp parts in Gympie. Our shop offers a wide selection of quality auto parts to meet all your vehicle's needs. Whether you are looking for engine components, electrical parts, or exterior accessories, we have them all. Our experienced staff is knowledgeable and ready to assist you in finding the right auto parts for your specific make and model. 
We understand the importance of using reliable and durable parts for your vehicle's maintenance and repair needs. That is why we only stock parts from trusted manufacturers. With our competitive prices and excellent customer service, you can count on us to provide you with the best auto parts in Gympie. Visit our shop today and experience the convenience of finding all your auto parts in one place.
About Gympie Auto Wreckers?
Gympie Auto Wreckers is a reputable car wrecker located in Gympie, QLD. 698 Beaudersert Rd, Brisbane QLD , We provide efficient and reliable services in the area. As one of the leading auto wreckers in the region, Gympie Auto Wreckers specializes in dismantling and recycling vehicles for parts and scrap metal. We have a team of experienced professionals who ensure that the wrecking process is done safely and efficiently. Whether you need spare parts or want to sell your old car, Gympie Auto Wreckers is the place to go. Our customer know us for our competitive prices and excellent customer service.
CARS, VANS, UTES, TRUCKS, 4X4
Can I sell my vehicle to car wreckers Gympie?
 Yes, you can sell your vehicle to Gympie car wrecker. This is a business that buys old or damaged vehicles for salvageable parts or scrap metal. We accept vehicles in any condition, whether they are running or not. Selling your car to us can be a convenient and hassle-free option. As we will usually come to your location to pick up the vehicle and handle all the paperwork. In addition. These wreckers in Gympie is environmentally conscious and will recycle your vehicle in an eco-friendly manner. So, if you have a vehicle that you no longer need or want to get rid of, selling it to the best auto wreckers in Gympie Qld is a great option.
What kinds of scrap cars do auto wreckers buy? Kinds and Age.
Auto wreckers buy a wide range of scrap cars, including various makes, models, and ages. We accept cars that are no longer roadworthy, damaged, non-running, or have reached the end of their useful life. These include old and rusted vehicles, accident-damaged cars, salvaged cars, and even abandoned cars. Auto wreckers are interested in buying cars from different years, whether it's a newer model or an older one. They often purchase older vehicles from the 1980s or earlier, as these can have valuable parts that are harder to find and in high demand. However, we also buy newer cars that have been totaled by insurance companies or are no longer operable due to mechanical issues. In essence, auto wreckers have a broad inventory of car types and ages that they are willing to purchase for salvage and recycling purposes.
Which areas of Gympie do you give services to?
Auto wreckers in Gympie provide services in various areas of the city. We cover a wide range of locations, ensuring that customers from different parts of Gympie can benefit from their services. Whether you live in Southside, North Gympie, Tin Can Bay Road, Pine Street, or any other neighborhood in Gympie, you can expect to receive assistance from us. Our services are not limited to any particular area, making it convenient for individuals living in different locations to access their expertise. This extensive coverage ensures that no matter where you are in Gympie, you can easily find auto wreckers near you who can help with car removal, selling old vehicles, or sourcing spare parts.