Car junkyard near me Gold Coast
Top Cash For junk Cars near me.
Car junkyard near me Gold Coast  offers top dollar for your old and unwanted cars. We deal with all kinds of old and junk cars, such as unwanted Cars, Trucks, Vans, Utes, 4x4s, Jeeps, SUVs, etc. The top Cash up to $9,999 will be paid on the same day of agreement.
Car junkyard near me Gold Coast.
A car junkyard is a place where old and junk cars are recycled. A car junkyard near me Gold Coast pays top dollar for old, junk, and unwanted cars. We have our own towing truck that helps us to carry the vehicle to our yard. Our workers are 24/7 ready to provide simple and valid service. There is no need to hesitate about the removal of the trash. Whether your car has broken down on the road or has been affected by an accident, we pay top cash for it. Car junkyard follows two different procedures about old and junk cars that are directed to our customers about their vehicles beforehand. So you might be wondering what is car junkyard. Actually, beforehand, you should know what a junk car is. then automatically you get aware of the car junkyard.
What is a "Junk Car?"
There can be numerous definitions of a junk car, but let me define it easily and clearly. The car that is smashed down on the road, or has gotten broken down. Whether a car faces an accident or other problems, is considered a junk car. More clearly, a car that is no more running properly for you, might require more expenses than comfort. So there would be two different conditions for your car.
Total Loss: Mostly when you face an accident, your car might get two different conditions, One of them is total loss which means the car is completely destroyed. If you desire to repair it, the cost of the repair will increase rather than the current value of the vehicle. So it would be better to get rid of it and take a new one.
In this situation, you will be prepared to car a junkyard. Where indeed you can make your total loss car cash. Get connected to car junkyard Gold Coast now and make everything clear.
Unwanted and damaged car: whenever your car reaches to end of its life. It means a car that is driven a lot (refers to the age and model of a car) or has gotten smashed in an accident very badly which makes a negative impression on it. If you repair such vehicles also the damage might remain so it would be better to make it trash. Sometimes you might get the chance to replace the damaged area with new parts. So if you need original body parts for your car get them from Tolo Auto Recycling Car.
What is a car junkyard Gold Coast?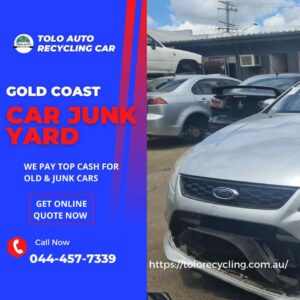 Actually, a car junkyard, also known as an auto salvage yard or scrap yard, is Used for recycling damaged, unwanted, old, and accident cars. They accept all models and conditions of vehicles. Mostly the junkyards don't pay money for old cars, in contrast, they take money to remove your trash, but Tolo Auto Recycling Cars pay top dollar for old, junk, and unwanted cars.
We have our own strategy for dismantling old and junk cars. Our aim is to find out the undamaged parts separately and use them for other accident and needy vehicles. Though we recycle most of the parts such as tires, batteries, and other engine parts, the body parts that are usable will be stored for other customers. Like doors, defenders, engine parts, or tires.
Tolo Auto Recycling Cars has a large inventory of used auto parts that can be used for other cars and sold to customers looking for replacement parts for their vehicles. The process of dismantling a vehicle involves draining all fluids, removing usable parts, and crushing the remaining metal frame for recycling. As per the experiment, Junkyards Sunshine Coast can be cost-effective too. It would be a good option for those looking to purchase used auto parts. However, it's important to be cautious enough before dealing with them. Though they are really experts in their business, we must take care of the cast of parts we buy from them. Tolo Auto recycling cars guarantee their price and quality for their customer.
Why Sell to a Junkyard?
Car junkyard plays a wide role in removing trash from society which makes the environment clean and clear. In addition, it gives financial support to the economics of the country too. More ever there are numerous other benefits that I have not explained here, but the most common benefit is the separated parts (doors, seats, engines, hoods, bumpers, defenders, and shelters.) are reused. The quality parts are used in other damaged and accident vehicles that save extra money. Tolo Auto Recycling Car sells different body parts of vehicles if you need them. 
CARS, VANS, UTES, TRUCKS, 4X4
We assure you to provide the best car removal service on any day and at any time. There are many reasons to sell your car and get cash for unwanted cars. We offer you as high as $9,999 cash, which is paid on the spot. With us, even your worthless vehicle has value. Enquire now! It does not matter wherever you live, in the whole of Queen Zealand.
Why choose us?
Tolo Auto Parts Recycling has remained regular and outstanding in performance for many years. The friendly, smooth, and fast cash for and free towing services has given us the credit to call us the number one company in the whole of Brisbane. In addition. We provide quick services our towing car/ truck activities has gotten the ability to fulfill all the requirements and certifications.  We pay top cash for your old vehicles plus free towing services. The customers are never disappointed with us. Because we give a smooth and easy platform. Our process of work is very easy, all you need to do is call us on our cell number 0444577339 our team members will answer you quickly and rapidly. For further acquirement, you can get in touch by filling the form.
Importance of Recycling cars for cash near me. 
Old and damaged vehicles are really disturbing for the owner and people living in the surroundings.  They produce different kinds of dangerous smoke, sound, and other distracting materials.  Which destroys the natural resources and environment. Though we know that the natural resources are finite and less, we should not keep our old things in use which are dangerous for natural resources.
So recycling paper, wood, and machinery can save trees and the environment.  Recycling plastic will make the surroundings clean and it help companies to make less new plastic, which will save the budget of our country. Like this recycling, the vehicles and old machinery make the air clean and safe for human beings. In addition. The companies will get the opportunities to make new and updated things which can save energy and money. It also saves the lives of human beings due to accidents which are mostly made by old vehicles. Old vehicles are hard to drive they are not as trustworthy as new and modern ones.
Why is Recycling Important?
Protects environment and Wildlife.

Save Our Natural Resources

Saves Energy and oil.

Brings People Together

Educates People about the Importance of the Environment

Saves Money

Creates new Jobs and opportunities for others.
We provide sevecies in various citiy of Queen Zealand: